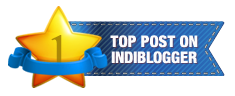 Once upon a time in the golden past, though not so golden when you think of it. Still, if you observed minutely you might have found some streaks of gold, if you were lucky. At that time, Mumbai could boast of little penguins along the streets. No, no, it's the truth. That was when we weren't worried about global warming. If you were lucky enough to have seen Mumbai during 1990's you might have seen them. No kid could resist the lure of feeding those pretty black and white creatures with yellow beaks. We couldn't just throw the rubbish on the road, and miss the chance of getting close to the penguin. Yes, I'm talking of the striking trash cans of Mumbai which resembled a penguin. It wasn't like any trash can, but a cute penguin.
As children, we were in awe of the penguins. They were as much an attraction as any picnic site. But, as I grew up the penguins vanished without a trace. Last year, when I went to Gateway with my nephew, I couldn't show him any penguins or any other trash cans in Mumbai. I was worried. Was there a possibility, the penguins had migrated to the poles, and the poor authorities couldn't find any substitute?
Now, you might be intrigued as to why am I talking about penguins and trash cans. The truth is that like our Honorable Prime Minister, I have got broom on my mind. So, when everyone started campaigning for Swachh Bharat, I couldn't help but get interested in the matter. When I saw the ministers sweeping the garbage, and the trash carts which seem to appear magically as soon as the garbage was collected, I was left wide-eyed. How I wish these politicians and celebrities could teach that spell to us poor mortals! Whenever I have trash, forget a trash cart, not even a small bin appears. I have to carry it for miles and miles or my home ( whichever is nearer) to dispose it.
Talking of the penguins, the most acceptable theory of their disappearance is that nobody used them, so the poor penguins were depressed, and the authorities dismissed them. What's the use of mere bins when they weren't useful? I never questioned the authorities on the point because I understand the difference between adult and child vision. The full dust bin to a child's eye might be a rarely used and empty bin to an adult. What I saw as a child could be mere stuffing of the toy instead of trash as I imagined. Now, when I went to Matheran I started having doubts about that theory.
In Matheran, I saw a strange occurence. Instead of one, they had two types of dust-bins at regular intervals instead. Was there a different dust-bin for males and females, I wondered. I know the idea seems wierd but then, I keep an open mind when I think about our government plans. However, it seems that the civic authority of Matheran wasn't queer, but smart. (Thanks to my open mind, I wasn't surprised by this fact.)
You see the dust-bin on the right side, the cylindrical one, open at the top is the old one. It was a prim dust-bin just like it should be, and it was used too. At least half the people did use it anyway but, so did the monkeys. Matheran is infested with monkeys. They are cute and enhance the attraction of Matheran,but the monkeys of Matheran consider the dust-bins as their private little treasure hunt. The little rebels have their own outlook in life. They took exception to the rule that the garbage belonged in the dust-bin, and believed the opposite. In their search for treasures, they littered the street with trash which they removed from the dust-bin.
The harassed authority devised a plan, and had the new dust-bin installed. Thus, came the dust-bin on the left, the one which looks like a letter-box. As you can see from the picture, it would be difficult for anyone to remove the trash from the small, oblique opening. Still, I've heard sometimes, baby monkeys can still get through to the trash. However, the important fact is that the dust-bins in Matheran aren't just road-side decorations. They are used which I confirmed with my adult eyes. This fact has resulted in somewhat cleaner city. So, I wonder if people can use dust-bins in Matheran (which is also in India) then how can authorities be confident that it's useless to have dust-bins in other cities. Shouldn't Mumbai which is any day more crowded than Matheran have more dust-bins?
If there is a budget problem, maybe we should ask Matheran authorities for the older bin. Either that or the politicians should consider teaching us the aforementioned spell so that we can conjure up a dust-bin as soon as we accumulate trash.
You might want to read my earlier article
The city needs trash cans
when I realised how difficult it is to teach good manners.
What do you think about the missing trash cans? Is there something, you think necessary for clean India? Do share your views. I'd love to hear them.