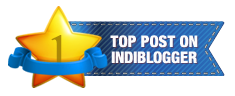 When we think of novels, the first thing that comes to mind is flow, an original voice and continuity. So, when Blogadda formed teams of ten authors to write a single story, I wasn't sure if it was a good idea. I, like other bloggers, can't say no to any creative writing endeavor, and became a part of the game of blogs.
When we started writing, I realised that the saying, too many cooks spoil the feast isn't always true. At times, every cook adds his individual flavour, and the dish turns out more delicious than expected.
Thank you Blogadda for giving us a chance to explore our creativity and have fun at the same time.
Now, we have a novel where every chapter has a different, refreshing voice like the vivid sky displaying various shades of blue, white, and red, the shades instead of diminishing add to it's beauty.
Our Logo designed by talented Ruchita






Artistic collage by Ganga Bharani
Presenting to you 'Memory Intrigues' by Dynamic WordWeavers.
Memory Intrigues:
One phone call causes an upheaval in Shekhar Dutta's life. It was the beginning of a disaster. He can no longer trust his own wife, and is ignorant about the shadow overcasting his daughter's happiness.
Tara Dutta believes that success is the key to happiness. None of her calculations work when her ambition is entangled with a family crisis.
Where is Jennifer Joseph? Shekhar and the media are intrigued. Jennifer is on the run. She thinks, she has everything under control but control is a tricky thing.
Cyrus Daruwala has goals set in life; his research is progressing in the right direction and a brilliant career is awaiting him. What more would a student want? A shortcut to success. Only he has no idea where the path leads.
Everyone has a secret hidden safely or so they think. Secrets are hard to keep and harder to reveal when the time comes.
Creativity by Ganga Bharani
Memory Intrigues, Part I
Memory Intrigues, Part II
Memory Intrigues, Part III
We invite you join us in our thrilling adventure, and don't forget to let us know how you like it. You can comment on individual chapters or on the blogadda page here. (On Blogadda page you stand a chance to win goodies, if your comment is selected.) You can also let us know on our
Facebook Page: Dynamic WordWeavers. And while you are at it, why not like the page too? On the page you'll find more about the authors and also some inside stories on how we fabricated the story. So, keep following our FB page.
We are looking forward to your words of encouragement.